This guide is meant to help contributing photographers navigate through our site for the first time. Details of the entire process from joining, to uploading and selling your
images are explained in a step by step manner.
We have made the process as easy as possible so you'll master the steps in no time! You may use the shortcuts below to quickly find a topic.
To become a Stockbo contributor, simply create an account in the Contributor Join page. We welcome all photographers as long as your images are congruent with the
style and quality we would like to see on the collection.
Your images do not need to be exclusive to us and you can upload images you have on other sites as long as it meets our criteria (and is not exclusive to those sites).
On the registration form you will be required to insert a link to your portfolio. Your portfolio should display the types of images you will be contributing to Stockbo.
Please review the Criteria page carefully before you apply to see what types of images we are after.
We will get back to you as soon as we can. If your portfolio isn't exactly what we are after, you will be informed with some feedback.
Our feedback and comments are nothing personal against your skills at all. We have a rigorous selection process to ensure that every image uploaded is in line with the
Stockbo direction.
For more information about contributing please check out our FAQ.
Once your account is approved, we will notify you via the email address you entered and you can start uploading photos.
To login simply click the login button located at the header of the site. Your login information is emailed to you when you apply and you can use the password retrieval
function on the login page should you forget your password.
When logged in, the 'Login"button will be replaced with your name and clicking this at any time will take you to your account home page.
The first thing you should do once your account is approved is to insert your PayPal email address. At this time we only pay via PayPal.
You may enter your PayPal email address by logging in to your profile and clicking on "Edit Account".
Then scroll down to "Contributor Settings", click "[Edit]" and select "PayPal" to enter your PayPal email. Then click "Save" to lock it in!
To find out more about how much you will earn from the sale of each image please see here.
You can fill in your profile details from the "Edit Account" button from your account page.
The more information you provide, the more your customers will get to know about you so we recommend taking the time to fill in the details. In the biography section,
write a bit about yourself, your passion for photography, your skills and style.
You can view your profile by going into the "Photographers" page and searching for your profile. Alternatively, navigate into one of your photo pages and click on your
profile picture.
Please note that we will not disclose your email address, phone number or address. Only your website and location (state and country) will be displayed and you have the
choice of leaving these blank or making it generic whichever you prefer. However, having your location is an incentive for interested parties to contact you via your website
should they be in your vicinity.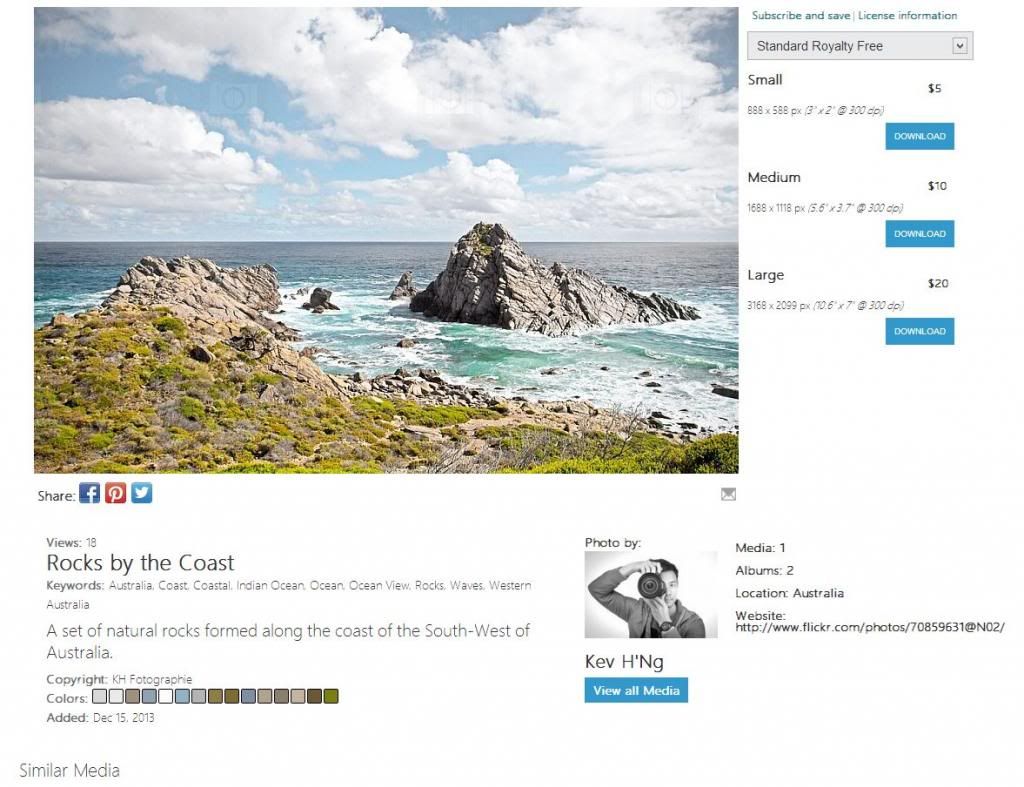 Your account page (accessed at any time by logging in and clicking your name on the header) allows you to access all the features associated with your Stockbo account.
From here you can edit your profile information, view your subscriptions, sales, download history, lightboxes, media and eventually analytics. This is all accessible from the
links located on the left side of your account page.
To start adding your images to be sold please follow the steps below:
Click on "Add New Media" from your account.
Upload Via the Java Based Uploader

The default uploader is Java based. You may also upload via FTP if you prefer. Click here to see the FTP process. To continue, your browser will prompt you for
permission to allow it to run. During the upload process, we do not access any information from your computer; the up-loader simply lets you upload images in bulk.
To add your images you can either drag and drop (recommended) or click the "Add" button and find your images. We recommend you drag and drop (it's easier and
more fun!) by opening your computer's file explorer, select your images (hold down shift or control to select multiple images), and drag and drop them onto the up-
loader.
Click "Start" to begin the upload. Your browser will once again prompt you to allow the application to run. Click "Allow" to proceed.
The time taken will depend on the number and size of the images you are uploading.
To start entering details for your images scroll down past the "Upload Via FTP" section of this guide.
If you are interested in uploading via FTP please email us at artistry@stockbo.com and we will set up an FTP account for you. Uploading via FTP (File Transfer
Protocol) is a quick and easy way to upload images and lets you upload images directly to our server.
To upload via FTP first download a free FTP client such as Filezilla. In the text boxes enter in your FTP username and password which we would have emailed to you
(in the "Host" box enter "stockbo.com"). Then simply find your images from the box on the left and drag and drop them into the right hand box.
Then open your web browser and go to you account page on Stockbo, and click "Add New Media". The media you uploaded via FTP will be ready to be imported onto
the site. Just select the ones you wish to import and click "Import Selected". Please note that no image thumbnail is displayed at this screen if you uploaded via FTP.
That's all there is to it. You can close Filezilla and continue on below to start adding information to those uploaded images.
Enter Image Details
Once the upload process is completed, you may enter the image information in the popup that appears. If your image already has information saved on it prior to
uploading you can use the uploader's auto-fill feature. To do so simply select which album and gallery you would like to attach the images to and leave everything
else blank. To edit information on an image before uploading, go to your file explorer, right click on the image, select properties and then details. Please note that
you will still have to manually add a title as the uploader will save the title (from your image) as the description on stockbo.
If you have uploaded multiple images, anything you input here will apply to all of those uploaded images. For this reason we recommend uploading images that are
relevant together so that you can mass input information that is shared across those images. You can then click the edit image icon below each image to individually
add specific details to that image.
ALBUM – THIS IS OPTIONAL. Albums allow you to organise images on your account,for example you can make albums such as travel, specific location, people,
themes etc. Albums you create will appear underneath "My Media". Albums are also useful for showing particular images you have uploaded to others without
having to repeat the process using a lightbox.
GALLERIES – THIS IS COMPULSORY. Images have to be assigned to at least one gallery to be displayed on site. Select the ones you think the image will fall
under best (hold control to select more than one). Galleries are listed on the "Galleries" page and also underneath the big search bar on the home page.
DETAILS – Here you can add details of the image such as the title and description. Keep them short and concise if you can. Keywords are how customers
usually search for your image. Use keywords that you think describe your image. Enter the keywords separated by a comma and click "Add", or add one at a
time. Please note that keywords will only be saved by clicking "Add". You may use as many as you like as long as they are relevant. We do periodically review
them and keywords not relevant to images may be removed. You may also enter your copyright information if you wish (your name or your business name). If
the image requires it please be sure to indicate whether you have an up to date model and/or property release for it. Please see here for more information on
releases.You should not need to edit the size of the image.
PRICING – You do not have to do anything here as all image prices are Standard to provide a simple shopping experience. All prices on Stockbo are listed in
Australian Dollars. To find out more about how much you will earn for your images that are sold please see here.
You can edit an image's information at any time by finding the image in you account (see below "My Media" on the left panel in the "My Media" page for filtering
options) and clicking on the edit details icon.
Seeing as you own the copyright, you may delete images you upload at any time using the delete media icon beneath each image. HOWEVER, we ask that you do so
very sparingly as customers who have already purchased and downloaded the image will no longer be able to re-download the image once it is deleted.
That's it! It's really simple and you will be able to master it in no time!
Your sales information can be viewed from your account home page or from the "View Sales" link on the left hand side panel of your account. Detailed sales and analytics
are something we are working on and will be able to offer you very soon.
Subscriptions, Lightboxes and Purchases
We have already touched on this but as a contributor you still have access to all of the features available to customers which means that you can purchase images and
subscriptions, and create lightboxes.
Some images will require supporting documentation to be prepared and stored such as model and property releases. These do not have to be uploaded at this time but
will have to be available should we or a customer request them. You may indicate that you have a release by clicking the appropriate checkbox in the "Details" tab of the
edit image popup.More information about these releases are located below. For templates of releases we recommend using VM Release.
Model Releases
Model releases are required where your image contains recognisable people. These people will have to sign a release document allowing you to use an image of
them in a photograph intended for sale.
Property Releases
Property releases work in the same way but are for any private or government owned property. This signifies that the property owner has signed and approved of you
using their property in an image intended for sale.
Please note that we do not allow any images that contain any recognisable brands, trademarks or copyrights. This includes recognisable property such as exotic cars and
features of exotic cars.
Selling images containing any of this would be infringing on those copyrights and make you, us and potentially the customer of your image liable to legal action by the
respective copyright and trademark holders.
Having model and property releases are very important as it protects the customer of your image, you and us from any legal action taken by parties who believe their
rights have been violated by others using their self, property, copyright or trademark against their permission and benefitting from the sale of it.
Please refer to Section 6 of our Terms and Conditions for more information on this. Our Terms and Conditions of Use, Privacy Policy and License Agreement are readily
accessible from the bottom left of the site.
As such we kindly ask that you abide by the above, provide releases where relevant and do not upload images that would infringe on this or we will remove them (to
protect you, our customers, and ourselves)
Please be assured that you will always own all copyrights to your images (Section 6.5(c) of our Terms and Conditions). Customers purchase a license to use your image
based on the license specifications. We display your images and facilitate in the sale of licenses for your images.
As per Section 10.1(d) of our Terms and Conditions you allow us to use watermarked previews of your images for marketing purposes. You still retain all copyright. Full
size or non-watermarked images will be licensed normally by Stockbo. Where possible we will include a link to the image we use.
The featured images section provides a fair way of getting one of your images displayed on the home page of Stockbo.com.
Each week we select what we believe are the most outstanding images that have been submitted to our weekly Stockbo assignments. These images will be placed inside
the "Featured Media" category for you and everyone to gander at.
Within this Featured Media category, the image that obtains the most likes (by clicking the heart shaped "Like" icon) at any one time between Monday and Sunday
(weekly period) is shown on the home page as the second largest image on the page.
Images can only be "Liked" by members of Stockbo.com once per registered profile (customer and contributor) and only landscape images will be selected as Featured to
best fit the home page.
At the end of a weekly period, the "Likes" are tallied up. The image with the most likes at the time of counting will be placed as the main image for the rest of the next
weekly period (7 days).
If your image is selected, spread the word, share it using our share buttons underneath the image and get as many "Likes" as you can!
Getting your profile to be featured on the home page works in a similar manor and is based on registered user views. This is completely dynamic and automated so the
user with the most profile views during the week at any one time will show up on the home page. Profile views are reset weekly.
Spread the word by going into your public profile, copying the link and sharing it wherever you can. Remember only registered users' views counts (customers or
contributors) so get your friends to signup and login, and then view your profile page.
For more information about becoming a contributor please check out our "FAQ" page and also our "Criteria" page.
We have plenty of things planned and a host of exciting features to add to the site. We also want to make it easier to connect with the community including your fellow
photographers and customers.
One of our major goals in setting up Stockbo is to provide a platform that offers fair trade to you as a photographer. Building on this, we want it to be a place that rewards
you most and makes it easier and more profitable for you to sell your images.
Saying that, if you have any suggestions, ideas, problems with the system or complaints, please send us an email (please be nice and polite we have feelings too!) at
support (at) stockbo.com. We would love to hear from you.
Thanks for being a part of the Stockbo family!